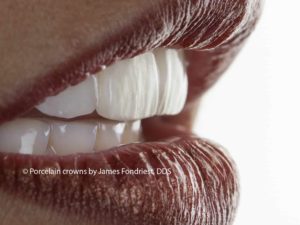 If you have a damaged tooth via accident or decay, there are many treatment options available to save it.  There are minimally invasive and more invasive options depending on the case. Extreme decay and accident would probably require a more invasive treatment. In today's blog, Dr. Fondriest discusses one option: Porcelain on Metal Crowns.
What are They?
Porcelain on metal crowns are a combination of a porcelain crown and a metal crown. They are used when strength and durability are required but the patient also prefers esthetics, For instance, for bruxers (people who clench and grind their teeth). Metal crowns are the strongest most durable crowns available. Porcelain crowns are strong and esthetically pleasing. When both are required there is the POM crown.  POM crowns are fabricated with a metal shell underneath a porcelain veneer. The underlying metal provides stability and strength. Although it is possible for the porcelain veneer to chip or crack, the success rate of POM crowns is very high.
Advantages
POM crowns are:
Strong
Esthetically pleasing
Long-lasting and durable
Highly successful
Disadvantages
Disadvantages associated with Porcelain on Metal Crowns include:
Metal has long been the standard choice for those who need a crown. While metal certainly has some benefits, the alloys used to make dental crowns are unseemly and look nothing like natural teeth. Porcelain is much more aesthetically pleasing. Dr. James Fondriest will match the look of your new pretty crown to that of existing teeth, to preserve and even enhance your smile. He will use an all-porcelain (ceramic) or porcelain-fused-to-metal crown (PFM), depending on your case. While we ensure that both types of crowns look stunning, there are some fundamental differences between the two.
Esthetic Porcelain on Metal Crowns
POM dental crowns have been widely used in dentistry for 35 years. Comprised of baked ceramic to a metal substructure, or coping, PFMs are strong and visually appealing. PFMs provide the integrity of metal without the ugly aesthetic. The ceramic hides the dark, metallic coping and looks like your natural teeth. Most cosmetic dentists only shape the ceramic to hide the coping at the gum line. Dr. Fondriest, however, provides a porcelain-butt-joint-margin that hides the coping below the gum line, ensuring it will not show, even if the gum recedes. While aesthetically pleasing, these crowns are not translucent as all-porcelain ones.
Learn more about Porcelain on Metal Crowns
Aside from providing dependable general and restorative dentistry services to our community, Dr. James Fondriest also holds respected academic appointments at the Pankey Institute in Key Biscayne, FL, and the Spear Institute in Scottsdale, AZ, and he is a former adjunct Associate Professor in the Department of Prosthodontics at the University of Florida Dental School. Dr. Fondriest combines his impressive array of experience with modern technology and caring, compassionate, knowledgeable staff, and we proudly serve patients from Chicago and all surrounding communities. To schedule a consultation, call our office today at (847) 234-0517.