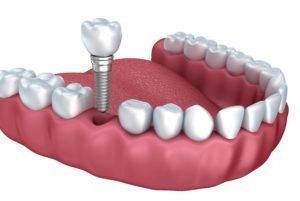 Even if you have never lost a tooth, much less several of them, you might understand the importance of replacing teeth with a dental bridge or implants. By filling in the gaps in your smile, modern replacement teeth do more than just restore your smile's appearance; they also help reestablish its function and preserve the rest of your oral health. However, in spite of the wide range of options, only dental implants are able to reestablish the functions of your lost teeth roots. By anchoring your prosthetic teeth, dental implants are sturdier, more realistic, and longer-lasting than traditional prosthetics, making them the better tooth replacement option for many patients.
Losing a tooth can be devastating in the moment, but with the right replacement, you can once again enjoy the confidence of a full, healthy smile. Traditionally, this has meant receiving a custom-designed dental bridge to fill the gap in your smile left by the missing tooth. Today, many patients can choose between a traditional dental bridge, or a more advanced, dental implant-supported crown, which also replaces the root of your lost tooth. To help you decide on the best option, Dr. Fondriest can perform a thorough examination and consult with you personally to discuss the pros and cons of each.
Find the best replacement for your lost tooth
If you've lost a tooth, then find out if a dental bridge or implant-supported dental crown is your best option.
How a dental bridge works
A dental bridge consists of a custom-made, life like replacement tooth, known as a pontic, which is supported by a pair of equally lifelike dental crowns on each side. To support the pontic, the bridge's crowns are attached to the healthy, natural teeth next to the gap in your smile. Known as abutment teeth, they provide stability and security for your replacement tooth as you bite, chew, speak, and smile.
Why a dental implant crown may be better for a lost tooth
In many cases, however, Dr. Fondriest may recommend replacing your lost tooth with a lifelike dental crown supported by a single implant post. The dental implant can be placed in your jawbone, where the lost tooth's root once rested, providing a highly sturdy anchor upon which Dr. Fondriest can secure your crown. Together, a dental implant and crown can offer the most realistic replacement for your lost tooth, reestablishing your smile and your bite's function as well as the vital functions of your tooth root.
Replacing Lost Teeth Roots Matters
A tooth is divided into two major parts; the crown, which sits above your gum line, and the root that extends into your jawbone, underneath your gum tissues. Prosthetic dentistry has historically focused on replacing lost tooth crowns so patients can once again bite and chew their food, speak clearly, and smile confidently. Now, however, dental implants can also replace the roots that supported your teeth in order to anchor your dental crown, partial denture, or complete denture just as securely.
Are Dental Implants Better at Replacing Your Entire Tooth?
In addition to stabilizing your teeth, roots also help maintain the strength and integrity of your other oral structures, particularly your jawbone. Stimulated by biting and chewing, teeth roots help stimulate a healthy nutrient flow, feeding your jawbone enough nutrition to stay strong and healthy enough to support your teeth. After being surgically inserted into your jawbone, dental implants can provide the same stimulation, which in turn helps keep your jawbone strong and reduce your risks of further tooth loss.
What Makes Dental Implants Special?
There are a number of restorative treatments available to help complete smiles after tooth loss, including partial dentures, dental bridges and dental implants. They all offer benefits, including helping to preserve your remaining teeth's alignment, but dental implants have added perks that only an implant can offer. That's because dental implants are the only form of restoration that replaces both the tooth and its root, helping provide nutrients to your jaw.
Implants rely on a titanium post to serve in place of the tooth's root, and to anchor a fake tooth, creating the most stable and longest-lasting form of restorative treatment available. The post must first be surgically inserted into your jawline. It must fit between the roots of the adjoining teeth. Once placed, it must be given time to allow the surrounding tissues to heal around it. This process is called osseointegration, which is possible because of the titanium's high level of biocompatibility.
What about Dentures?
Dentures replace all teeth on the top, lower, or both arches. Traditionally, dentures are held in place by denture adhesive, or cream. Natural suction can retain an upper denture. However, modern dentistry gives us a more secure and reliable fit with implant-retained dentures. A permanent or removable denture can be secured to four strategically placed implants. Benefits of implant-retained dentures include no slippage, no need for adhesive, and the potential for a lifelong prosthetic.
Learn more why Dental Implants Are Better at Replacing Your Lost Teeth
While you have several choices for replacing lost teeth, safe dental implants are often the better option thanks to their ability to replace lost teeth roots. To learn more, schedule a consultation by calling us at 847-234-0517. We also proudly serve residents of Chicago and all surrounding communities.
Dr Fondriest is a Nationally recognized and highly sought after cosmetic dentist. He serves clients from throughout the United States