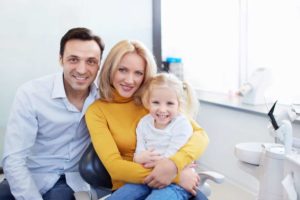 Keeping one's smile healthy is important for a number of reasons. Good oral health is essential to maintaining a beautiful smile. More importantly, it can help prevent discomfort and eventually pain, as well as the need for an extraction. A healthy smile is also important for maintaining proper nutrition, and avoiding complications that can be caused by infections, or even gum disease. In other words, keeping your teeth and gums healthy is incredibly important. If you want to protect your smile, these are a few of the steps you can and should take to prevent dental problems.
Make Sure You Brush Regularly
One great way to protect your smiles is by making sure each of you brush twice a day and floss daily. These acts should only take a few minutes, yet they can help to reduce the chance of cavities and gum disease, which is actually a chronic condition.
Small children will likely need assistance at first, but around the time they learn to tie their own shoes, they should have the dexterity needed to brush and floss on their own, with only minimal supervision.
Children
Children have to be taught how to act and how to take care of their smile. Your child should visit the dentist by his or her first birthday to check for early signs of dental problems and development issues, as well as to emphasize the importance of oral care. Dental education is very important at an early age to prevent serious problems later on. In addition, parents have to teach their children proper behaviors. If parents have bad oral hygiene, they will probably pass those bad habits on to their children and their smiles will suffer. On the other hand, if you brush and floss daily, your child will notice that pattern and pick up the same practices. Dr. Fondriest can show your child the proper way to brush, floss, and take care of his or her teeth. Kids are often attracted to sports drinks advertised on TV. These drinks are very bad for teeth.
Take Them for Regular Dental Checkups
Of course, you still need to take your family for regular dental checkups and cleanings, to help remove any calcified tartar that has already developed. Most patients find that bi-annual checkups are advisable. That said, some patients may find that they actually need to see their dentist more frequently in order to effectively prevent cavities.
A number of factors can influence one's likelihood of developing cavities, including genetics, diet, lifestyle and other factors.
Need Preventive Treatment?
Preventive treatment can help you avoid many dental problems. You can schedule your next checkup and cleaning with Dr. Fondriest by calling Lake Forest Dental Arts at (847) 234-0517. We welcome patients from the North Shore area of Chicago.